Local News
Edo governorship: why Obaseki's defection doesn't matter – APC
Godwin Obaseki's transition to the PDP was described as insignificant according to the APC
Godwin Obaseki's transition to the PDP was described as insignificant, according to APC spokesman Mallam Lanre Issa-Onilu, who told the Nation newspaper in a telephone conversation on Friday, June 19, that Obaseki's transition to the PDP was expected.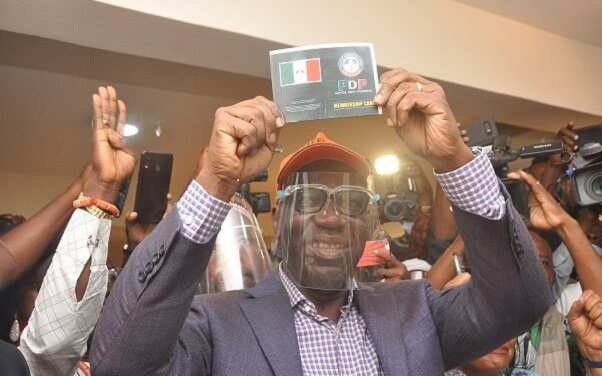 "It didn't come as a surprise to us. We knew that he had defected long ago because he refused membership in the party that we accepted,"Issa-Onilu said.
Ize-Iyamu betrayed us as a consensus candidate-Ogyemwoni Issa-Onilu noted that obaseki's entry into the PDP is no longer news, because He has already left the APC. "So you can't desert twice." So if he defects again, we don't know if what he just did is more news, " Issa-Onilu responded
The All Progressives Congress and the political family of the APC were relieved and happy to receive the latest news today that Godwin Obaseki has finally defected to the PDP people's Democratic party. This movement was long overdue, given that as a Governor elected on the APC platform, Obaseki was consistent in his determination to undermine and weaken the structures and cohesion of our party.
Obaseki worked for the opposition in the presidential, National Assembly, and State house of Assembly elections. He deliberately lost the election to his ward, the local government, and the senatorial district. He has also provided financial support for opposition candidates in the governors of the neighboring States.
Also Read: VIDEO: Obaseki finally joins PDP a few days after leaving APC
Obaseki, contrary to the leadership of our party, the decisions of the National Assembly and public opinion, denied 14 elected members of our party their constitutional right to be elected to the State house of Assembly.
So all APC members and critical stakeholders are relieved that Godwin Obaseki has finally jumped ship and, in keeping with his character, betrayed our mandate. We reiterate that Obaseki's defection will allow US in the APC to refocus and refocus our party in preparation for the upcoming elections. We are putting forward a candidate who will cure Obaseki's years of misrule.
That Obaseki completed a 3-year study program at the University of Ibadan with 3 o/level credits has not been denied or refuted. We at the APC will be watching with great interest as the PDP intends to sanitize obaseki's dubious academic credentials to allow Him to escape the accompanying legal trap. This promises to be an interesting and eventful trip.